Minding Your Mind
Product Description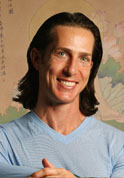 An 8-week course to change the course of your life with Dr. Domonick Wegesin. Domonick Wegesin is uniquely qualified to lead this course. He holds a PhD in psychology and cognitive neuroscience and worked for 10 years at Columbia University studying brain imaging and complementary medicine. He is a registered teacher of Chakra Yoga and is a Licensed Massage Therapist. Dr. Wegesin received his training in mindfulness from Jon Kabat-Zinn, the creator of the Mindfulness-Based Stress Reduction Program and currently teaches mindfulness classes at UCSF.
The course includes guided instruction in mindfulness meditation practices: sitting and walking meditation, body scan and gentle yoga to wake up to the present moment. The course also includes awareness exercises to promote physical & mental health, and cognitive behavioral therapy to identify and work with faulty ways of thinking.
You will leave the course with an established, individualized home meditation practice, combining techniques that work best for you. A course Manual with home practice exercises, a course textbook on Mindfulness, and CDs for guided home practice. As well as a better understanding of how to work with your thoughts to improve your quality of life.
Why People Participate
People participate in this class for a variety of reasons, including: Stress, job, family, financial, worries about the future memory problems, chronic illness or pain, high blood pressure, sleep disturbances, anxiety and panic, and Headaches.
Many enroll because they feel that the pace of their lives is out of control, even though they are physically healthy.
Background
This course combines techniques from modern cognitive psychology with ancient Eastern practices of meditation. Cognitive behavioral therapy (CBT) emphasizes the importance of our thoughts in determining how we feel and what we do. You will learn to identify patterns of "distorted thinking" that inhibit your well-being, and reframe your thoughts more positively to promote mental health and happiness. In order to catch your "distorted thoughts", you need to be aware of your thoughts. Mindfulness meditation techniques will help you learn to be aware of what is happening in the present moment in a non-judgmental way. For example, you will learn to identify when you are worrying about your finances or fretting about your relationships, and learn to work with your thoughts with greater acceptance and ease, instead of feeling overwhelmed by them. Mindfulness practice also helps build your mental muscle of attention, a cognitive skill that declines with aging, and is related to your ability to remember things, to multi-task, and to focus.
Our September class has been postponed. For more information call 415.775.1138
Cost:
Early Registration: $400
Standard Registration: $450
A deposit of $50 is required upon enrolling; full balance due at the first class. Class size limited, so enroll now to guarantee your participation.
Or call, email, or stop by vibrantBrains to enroll.
415.775.1138 / info@vibrantbrains.com./ 3235 Sacramento St